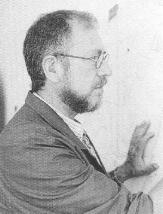 Shlomo Katz was born before the turmoil of the Second World War in Lodz, Poland. He emigrated to Israel in 1945, when he was 8 years old. Educated in Kibbutz Mishmar Haemek, his talent for drawing was apparent from a very young age. As a young man he went to Paris, where he studied art at the Ecole de Beaux Arts.
While numerous exhibitions in the U.S. and Canada introduced his work of different periods, Shlomo developed an original technique of oil painting on a gilded metak surface. The result recalls medieval icons on one hand, and oriental miniatures on the other. These ancient resources combine with a noble character. In his own words, Katz's works were magnified Persian miniatures.
The Artist's works are in the following collections:
The Wolfson Museum of Judaica (Jerusalem, Israel)
Biblical Museum [Beth Hatanach] (Tel Aviv, Israel)
Wilfrid Israel Museum of Oriental Art (Kibbutz Hazorea, Israel)
The Australian National Gallery (Canberra, Australia)
Museum of Jewish Art (Paris, France)
The Jewish Museum of Australia (Melbourne, Australia)
The Jewish Museum of Hungary (Budapest, Hungary)
Magnes Museum (Berkeley, California)
U.S. Air Force Academy Cadet Chapel (Colorado Springs, Colorado)
Ben Uri Collection (London, England)
Hillel House (London, England)
Hillel Academy (Portland, Oregon)
City of Ottawa (Ottawa, Ontario)
Hebrew Union College (Cincinnati, Ohio)
Washington Hebrew Congregation (Washington, D.C.)
Temple Beth EI (San Pedro, California)
Peninsula Temple Beth EI (San Mateo, California)
University Synagogue (Los Angeles, California)
Temple Emanu-EI (San Francisco, California)
Wilshire Boulevard Temple (Los Angeles, California)
Temple Emanuel (Newton Centre Massachusetts)
Temple Hillel B'nai Torah (West Roxbury, Massachusetts)
Temple Mt. Zion (St. Paul, Minnesota)
The Sephardic Temple (Cedarhurst, New York)
Beth El Hebrew Congregation (Alexandria, Virginia)
St. Phillip Catholic Community (Lewisville, Texas)
and many others places and private collections in the U.S. and around the world.